Arts & Crafts Revival
This old-world manor was inspired by English architect Charles F.A. Voysey's country home Broad Leys, a great example of the Arts and Crafts style nestled into the English moors. This home is clad in Vermont slate, buff-colored stucco, and Dolomitic limestone from Minnesota. A cantilevered French limestone stair and paving greet visitors at the main entry hall. An exquisite, circular oak stair with hand wrought rails encircles the three-story rotunda, drawing in natural light from above. While the home's design direction was largely inspired by Voysey's 19th century building, this home also features several modern touches. High performance windows and exterior foam insulation form the basis of the home's efficiency, while a solar chimney features motor-powered windows adjust to maximize solar ventilation.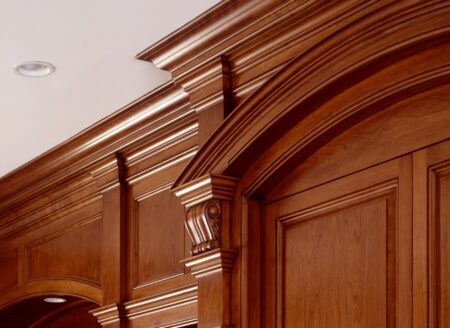 Thoughtforms' Workshop
Our shop is located in an old apple barn adjacent to our office. It's a place that inspires creativity, grounded in yankee sensibility. Take a look at the Shop portfolio to get a sense of their craft.
Look Inside